Best custom eCommerce design & development Company
Tomsher, a Dubai-based company specializing in custom e-commerce development, helps businesses tap into the growing online consumer market by providing valuable access. Over the years, we have significantly contributed to the success of numerous companies by effectively marketing their products and services. To initiate the development of an e-commerce platform, it is important for the client to clearly articulate their business needs and specify the desired features and functionality to be incorporated into the website.
We build custom e-commerce websites using ReactJs, VueJs, Laravel, Yii, Python, etc. Tomsher specializes in developing eCommerce websites that allow for seamless future expansion and upgrades as needed. The e-commerce website achieves full functionality upon integration with diverse APIs, including payment gateways and shipping providers, inventory management systems, rest APIs, etc. Our services focus on developing custom eCommerce websites that enhance conversion rates and boost online visibility.
Features
+ Cutom design
+ Custom functionality
+ SEO friendly
+ Payment gateway integration
+ Shipping integration
+ ERP integration
+ Internet implementation
Stages of Development
+ Planning & Analysis
+ UI & UX Design
+ Static Version
+ Dynamic Ecommerce
+ Third Party Integrations
+ Testing & Beta Release
+ Training & Deployment
Reasons to develop custom eCommerce website for your business
Our custom e-commerce websites are unique shopping stores designed to cater to specific business requirements, offering a variety of features that differentiate them from typical e-commerce platforms. Some key features of custom e-commerce stores include:

Scalability
Custom e-commerce platforms are designed to expand in accordance with the growth of the business. As the business experiences growth, the platform has the flexibility to expand and undergo updates in accordance with new features or requirements.

Build from Scratch
Develop a customized online retail platform from scratch, catering to the specific requirements of customers' digital enterprises. The custom coding does not include the integration of any third-party themes or plugins.
Integrate with other systems
Integrate third-party applications to your e-commerce websites using APIs like CRM, ERP, inventory, shipping, payment, social commerce, analytics, etc.
Advanced reporting and analytics
The admin panel of a custom e-commerce website is user-friendly and easy to monitor the sales report, Abandoned Carts, customer purchases, behaviour, etc.
Custom platforms expertise
Our in-house development teams possess expertise in various e-commerce frameworks and platforms. They will gather your business needs and help you select the ideal solutions for your online store.
ReactJS
React is an open-source front-end JavaScript library for building interactive UI components. Reactjs component-based architecture allows developers to create reusable user interface components. The key benefits of the react js ecommerce or web applications are speed, flexibility, performance & reusability. React is the best framework for build an ecommerce web app.
Laravel
Laravel is an open-source PHP web framework for the development of web applications. It follows the robust model-view-controller (MVC) architectural pattern. The most popular framework for building ecommerce and web applications from scratch. We are specialized in frontend and backend development of ecommerce, website & applications in UAE.
Custom PHP
PHP is a server-side open source language for building custom ecommerce websites. We offers professional cutom PHP ecommerce website design in Dubai, UAE. PHP is using to build high-performing CMS ecommerce websites. We offers fully functional and scalable PHP development services to create ecommerce using a variety of PHP frameworks.
Vue.js
Vue.js is a progressive JavaScript framework for building web user interfaces. Builds on top of standard HTML, CSS and JavaScript with intuitive API. VueJS is one of the best frameworks for JavaScript like ReactJS. Vue is faster and smaller, which contributes to better performance. Vue.js is using to build a fast and scalable eCommerce frontend.
Python
Python is a popular high-level, general-purpose programming language. Python is ideal for build a fully functional eCommerce website and application. Python is mainly using the backend of the ecommerce with Django and Flask frameworks. Django is a new generation language which is reliable and secure for developing eCommerce websites.

Ruby on Rails
Ruby on Rails is a popular programming language with many features that guarantee reliable software and app development. Tomsher's Ruby programming services provide all-encompassing solutions, enabling your company to create user-friendly and effective mobile or web applications.
Create ReactJS/ Laravel
B2C & B2B online portal
Our custom ecommerce wesbite have a world-class B2B (Business to business) buying experience - custom catalogs and pricing, personalized experiences, self-serving customer portals for easy management Tomsher will provide you with feature-rich, robust development solutions with the assistance of our experienced e-commerce developers. Avail of the best migration from any of the platform very easily with the help of our expert developers. Custom Commerce offers attractive features and functionality for small/medium businesses and start-ups that are limited by budget constraints.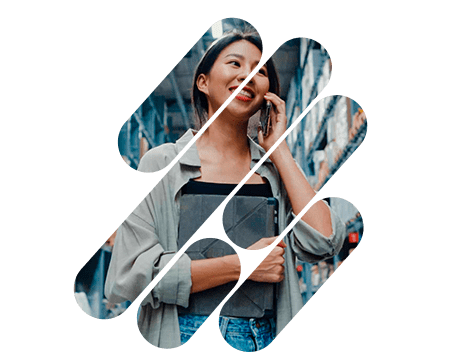 Our ecommerce team is well experienced in various industries, which helps to integrate high-end solutions and features. Our expert developers provide top-notch development services for your eCommerce websites and are ready to meet the unique challenges of your project.
Looking for an in-house eCommerce development company?
Tomsher is a leading Dubai based in-house eCommerce website design company. We provide fully custom ecommerce website development services in Dubai, UAE, the Middle East, and Africa. We offer all-in-one ecommerce web development services with a seamless shopping experience for our clients.
When we evaluate our client's goals, we always look for the best fit in terms of features, cost, design, and more. After a thorough study, and grasping your vision - we will provide our input and get started!
With Tomsher, our team will provide you with an unparalleled & smooth experience as we progress an idea into a website that bypasses your expectations. Our developer's experience in custom platforms makes us a valuable resource for your business, and we will provide all the services, before & after the sale, to ensure a successful journey with us for you.